A p a s s i o n f o r y o u r p r o d u c t s





Straight buffer

Our experience granted this equipment and was designed for easy cleaning and maintaining with full automated processing.
This equipment provides 2 functions:

storing the products in case of break down;

adjusting flow of products up and down the conveyor

according to FIFO system.

Providing an important storage capacity compared to its size, this equipment perfectly integrates lines with high speed production.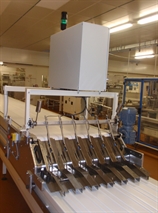 Our flow control equipment providing different functions is a real "rubber band" between your machines:

storing the products in case of break down;




adjusting flow of products up and down the conveyor.
Our range FIFO guarantees continuity of traceability of products.
Our range FILO optimizes the space of storage.
Thanks to their dedicated cabinet these equipments are independent and can control the conveying up and down.
Bulk buffer

The buffer FIFO, which was designed to control bulk products, provides storage and flow control.

The height of the products arrival is flexible and driven so the height of fall is reduced and the products are safe.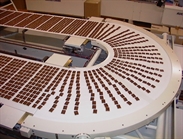 U Buffer

The "Trombone Buffer", our "Best Seller", is particularly appreciated for lines with usual change of size.

We developed the functions "feeding optimization" and "flow regulation" for a clever equipment that many customers adopted, most of them being packaging machines manufacturers.

As this equipment doesn't need any supervision and gests an easy maintaining, it often sets on a platform to save space on floor.

A simplified version was designed for packed products.

Storage device

This devide linked with a switch allows to store products coming from the process when the packaging stops.

The FILO system optimizes the space of the storage.

The return of products towards the packaging can be continuous or when a line stops.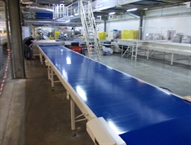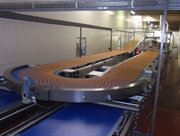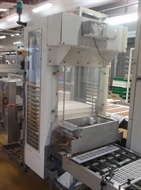 Vertical buffer

This FILO buffer especially storing pans or cartons needs small size and is very efficient.

Always linked with a set of upstream/downstream conveyors and stopping devices, the machine is independent.