A p a s s i o n f o r y o u r p r o d u c t s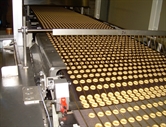 Oven take off

We propose solutions with metallic or plastic bands equipping a conveyor for widths up to 1200 mm.

Option:

trapdoor full width to local or deported automatic command, with or without side conveyro of evacuation.
We know how to care for your products taking off the oven until the packaging.

Various devices are offered and all meet same hygiene and security criteria.

We cope with unit as well as with bulk products.

Although we already often designed all equipments presented we want to adapt our solution to each special inquiry and need.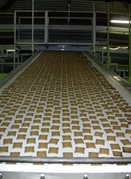 Straight conveyors

We designed a standard conveyor fitting biscuit processing industry requirements.

Beyond hygiene and security's duties, our conveyors insure a regular handling of products with precise transfers for widths up to 1500mm and lengths until 40m.



Dribble board

This equipment is usually used after cooling conveyors and upstream to the packaging to refocus the rows of products.

We gained a granted know-how through our great experience and the variety of products handled.

All our equipments are designed to be able to change easily size of products.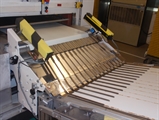 Curve

We propose a range of curves which width extends up to 1800mm specific for biscuit industry.

The maintaining of these curves, perfectly adapted for transport of biscuits, is reduced thanks to their friction drive.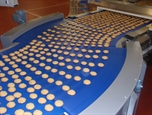 Lane reducer

To adapt the number of rows between the constraints of filling of the oven and the needs of the packaging, it is often necessary to incorporate a system of reduction/multiplication of rows.

Our systems guarantee a well-balanced distribution whatever is the number of rows in entrance and exit.

We can deal up to 400 products/min and by row.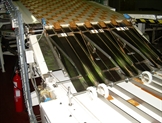 Turn over device

It is sometimes necessary to turn all or part of the products for the feeding or position in the package.

We developed a simple and particularly effective system to turn products in line to a cadence which can go to 400 products/min and by line.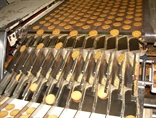 Stacker

We master the two most appreciated stacking technologies :


penny stacking;
2 types for star wheel stacker:

a single axis for all rows;
a separate motor for each row allowing to synchronize the winch rotation with the biscuit arrival.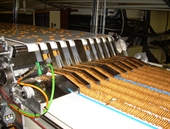 Product on pan

Some products are cooked on sheets or moulds and we developed an electric manipulator in 3 axes insuring products picking and their transfer to the downstream equipment.

The picking is made by suction cups and/or pliers on stopped or moving sheet.